!function(f,b,e,v,n,t,s) {if(f.fbq)return;n=f.fbq=function(){n.callMethod? n.callMethod.apply(n,arguments):n.queue.push(arguments)}; if(!f._fbq)f._fbq=n;n.push=n;n.loaded=!0;n.version='2.0'; n.queue=[];t=b.createElement(e);t.async=!0; t.src=v;s=b.getElementsByTagName(e)[0]; s.parentNode.insertBefore(t,s)}(window,document,'script', 'https://connect.facebook.net/en_US/fbevents.js'); fbq('init', '2275008702823398'); fbq('track', 'PageView');
First Visit
What is a Pediatric Dentist?
To begin, a pediatric dentist goes to school for an additional 2 years, after dental school, to learn psychiatric techniques to calm the anxious child, specific anatomy of baby teeth (greatly different from adult teeth), achieving certification in the use of nitrous oxide, conscious sedation and general anesthesia as a toolkit to provide dental services to children. These details give the pediatric dentist an advantage in treating anxious children and building confidence in their dental health.

In addition, if your child were to have a dental emergency, you would need to be a patient of record to access after-hours care or an emergency appointment. Pediatric dentists are specifically trained to handle pediatric dental emergencies.

Finally, most pediatric dental offices are set up to specifically cater to children. Similar to your pediatrician's office, the instruments, used, dental chairs, x-rays, etc. are smaller to meet the needs of smaller mouths. Games and prizes are common protocol to insure a positive, fun visit. Also, the décor is provided with the intent of specifically delighting a child's taste and comfort.
The Dental Home is intended to provide a place other than the Emergency Room for parents.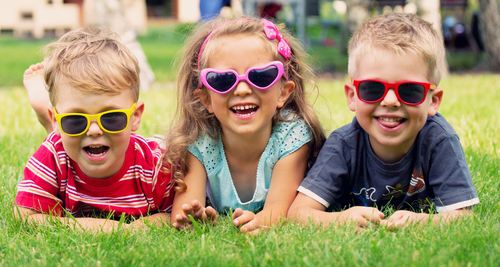 What to Expect
We believe that a child's first visit to our dental office should be fun, educational and most of all – make a positive impression. This approach allows us to provide the highest level of dental health care for your child, to educate and answer your questions.
You may choose whether or not you would like to accompany your child to the treatment area for his/her appointment. Although we sense that many times children do better without parents present, you are welcome to be present while your child is having their dental care at all times.
Siblings are to remain in the reception area for the duration of the appointment.
If you choose to be present during treatment, we suggest the following guidelines to ensure the most positive outcome:
Allow us to prepare your child.
Be supportive of the practice's terminology.

We don't use "needles" or "shots"; we use "sleepy juice so your tooth gets sleepy."
We don't "drill" teeth; we "clean or chase the sugar bugs out" of them.
We don't "pull" or "yank" teeth; we "wiggle" them.

Please be a silent observer.

This allows us to maintain communication with your child.
3-way communication is ineffective and confusing for your child.
You may give incorrect or misleading information.

Your child's behavior:

"Acting out" is normal when a child is nervous, but may inhibit our ability to complete the work scheduled for the visit.
Many children will try to control the situation by acting out.
We will not use any restraints to treat your child.
We will continue to support your child at all times.
These are very important ways that you can actively help in the success of your child's visit. We are confident that all will go well and hope that these guidelines will help prepare you with confidence for your childs upcoming appointment.
We look forward to educating a generation of young people on how to achieve excellent oral health and to encourage life-long positive attitudes toward dental care!
Dr. Whiteside offers state-of-the-art dental care for babies and children of all ages placing the highest value on the care that she and her staff provide for your children. We look forward to meeting you and your children, and to a long relationship working toward maintaining healthy smiles.
Digital Radiography
Bonded White Fillings (no mercury)
Topical Fluoride
Nitrous Oxide "Laughing Air"
Deep Sedation/General Anesthesia